Industry-academia-government collaboration
PR
JST-Mirai Program (Large-scale Type) "Building a space-time information infrastructure with a cloud optical lattice clock"
Japan Science and Technology Agency's JST-Mirai Program (Large-scale Type) Theme "Ultra-high precision time measurement that leads to a new communication and time-related business"
SIGMA KOKI CO., LTD. is participating in a research "Building a space-time information infrastructure with a cloud optical lattice clock", which is the technology theme of the JST-Mirai Program (Large-scale Type), "Ultra-high-precision time measurement that leads to a new communication and time-related business" implemented by the Japan Science and Technology Agency;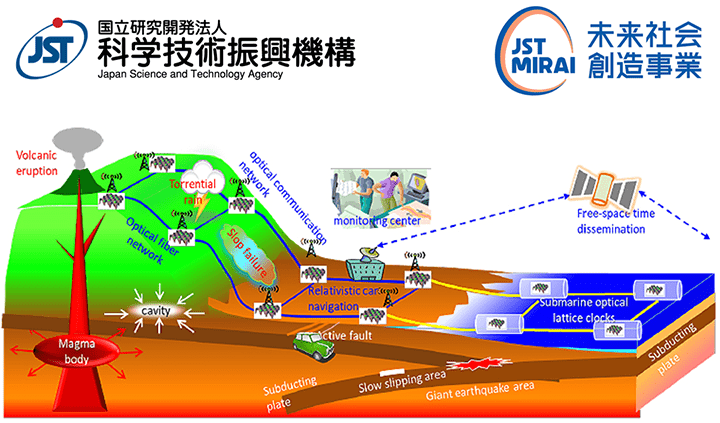 Image of optical lattice clock network
What is optical lattice clock?
This is one of the ultra-accurate atomic clock methods invented by Professor Hidetoshi Katori, Department of Physical Engineering, Graduate School of Engineering, University of Tokyo. The optical lattice clock has an error of less than 1 second in 30 billion years (0.4 seconds or less in the universe age of 13.8 billion years), whose precision is several digits higher than conventional atomic clocks. With the practical application of the optical lattice clock, the time unit "second" was redefined, and by providing a wide range of ultra-high-precision time to society, we can expect to win new time-related business, such as high-speed and large-capacity next-generation communication and relativistic geodesy.
Source: Japan Science and Technology Agency (JST)
SIGMAKOKI is working on the miniaturization and portability of optical lattice clocks toward the practical application of the latest time measurement technology in this project. We will provide optimal products such as optical components and small optical modules that achieve high stability and long life through high precision/miniaturization by further strengthen design and production technologies for optical products accumulated over many years. The practical application of the optical lattice clock is expected to make a significant contribution to the construction of a next-generation common platform for ultra-high precision and space-time information. It is expected that such high precision time synchronization technology would help the new quantum technology such as quantum computing to be propagated and expanded. By collaborating as a joint research partner for this project, we will contribute to the realization of a society where advanced technologies that utilize time, such as communications and information technology will be highly developed.